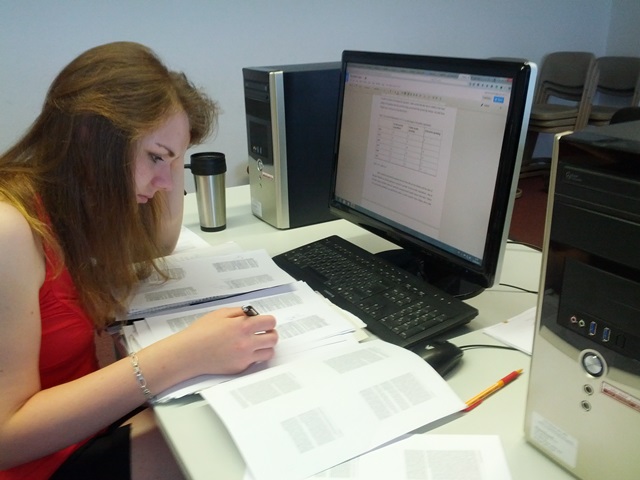 Imagine this: It's mid-August; you have recently celebrated the end of the exam period, and all of your friends are calmly awaiting their results while sipping a refreshing drink around a pool, enjoying the sunrays and the pleasant summer atmosphere…while you are stuck in the campus library, doing research for a term paper. Sounds discouraging, right? In some disciplines, the practice of writing long academic papers is integral to the learning process, and thus, students oftentimes find themselves burdened with the responsibility of composing a 15-page academic text when all of their friends are enjoying the sweet summer days. This can be pretty demotivating and may lead to procrastination and further pressure as Judgment Day (the due date) approaches. Therefore, those of us who find ourselves stationed within the four walls of the university library or in the PC Pools (rather than seated beside a campfire somewhere in the Bavarian Alps) should cooperate and motivate each other to concentrate and unleash our full potential. Sounds inspiring, but how can it possibly happen with all the temptations luring us to get distracted and to push us into saying, "It's alright; I still have time. From tomorrow on I am not taking any breaks!" (which, as we all know, is a lie)? Here is what I find most effective when it comes to summer homework motivation:
Step one: Establish your goals
Setting realistic goals is a key part of your term paper strategy since goals determine your productivity. Everyone wishes to shed the burden of homework as soon as possible, but too much rushing will inevitably hinder you from achieving your full potential. The same applies to overly relaxed schedules. It is quite easy to miscalculate how much time you need, and then you end up finishing your paper whilst under pressure (resulting, once again, in unmet potential). Time management can be quite a difficult task, especially for term paper newbies; therefore, my best advice would be to start as early as possible and see how well your research and writing procedure flows, since this will help you to spread out your work load over time.
Step two: "Challenge accepted!"
Yes, we all know that we should create a work schedule and follow it strictly, but as we also know from personal experience, this witty trickster called procrastination always makes us restructure our plans and gradually makes them less realistic and achievable. Therefore, if you do not disavow the delusion that, "From Monday on, I am working on this all day long, no excuses, no friends, no fun", you might end up having written only the title page, the introduction and the table of contents one week before the due date. So, the most important aspect of your preparation should be the 'Challenger' attitude. Make a bet with a friend. Let them understand your situation and force them to convince you that you will most certainly not be able to finish in time. Although this method might cause some anxiety, it is proven to bring the best results, since competitiveness is a key feature of human psychology.
Step three: "When I grow up, I want to be just like you!"
This might sound a little cheesy, but it is extremely helpful if you have a role model throughout your academic life. Perhaps you find the confidence of one of your professors motivating, or you follow the works of particular scholars and wish that you could one day express yourself as intelligently as they do… Then take the initiative and get inspired by the achievements of the people you respect. When you are excited about additional reading on your subject, not only will the process of writing become easier, but it will also be evident in your essay that you are genuinely intrigued by your field of studies.
However, keep an eye on your work schedule since there is the risk of getting carried away in your research (which is not essentially a bad thing, since knowledge is always beneficial) but you don't want to run the risk of not allocating enough time for the actual subject on which you will be examined. In sum, make sure you set realistic goals in order for your challenge to be most efficient, and motivate yourself by looking up to the achievements of your academic role models. However, if you still feel that your assignment is driving you mad, I would strongly recommend an article full of some very helpful term paper survival tips, written by my colleague Pia which you will find by clicking here.
Good luck! I believe in you; we are all in this together! 🙂
Best wishes,
(2nd semester Bachelor English and American Studies)