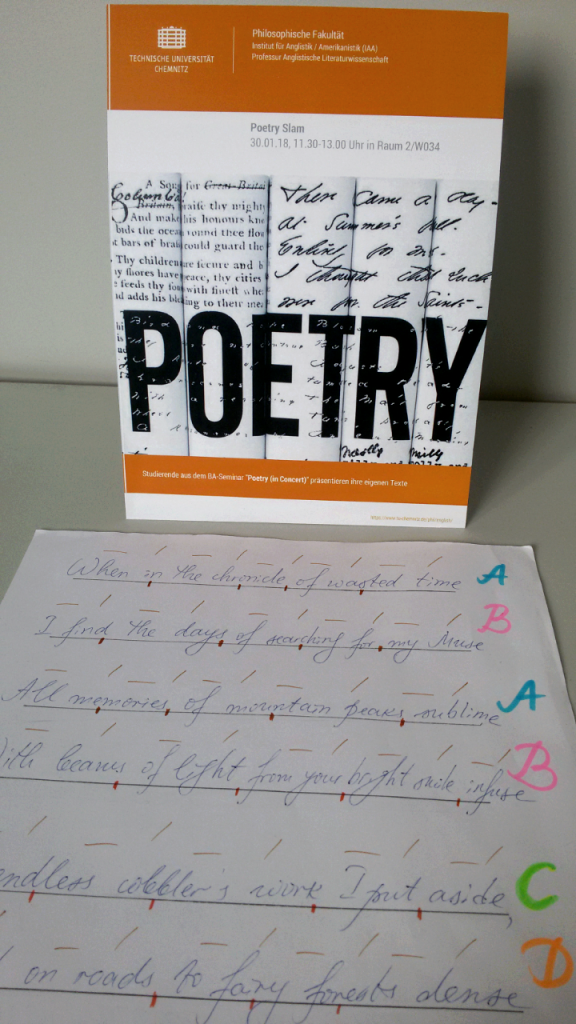 Sheltered in the eye of the storm of final assignments and exam preparation, students from the Bachelor seminar Poetry (in Concert) got secluded for 90 minutes from the end-of-the-semester frenzy and performed their own poems in the Poetry Slam organised by the English Department. An ordinary Weinholdbau seminar room was transformed into a stage for a multicultural poetry exchange, and it eventually ended up quite small for the numerous guests and aspiring bards. The audience not only had the chance to enjoy the lyrical creations but also to evaluate them with small happy, sad and neutral paper faces. The students did not fail to impress with many exciting ideas on various topics such as love, loss, betrayal, trust, hope, life and death. From homages to songs, through portrait-inspired verse and stream of consciousness, all the way to translated Chinese poems and their singing performance in the original – the poetry slam offered a rich collection of interesting forms, topics, sounds and literary devices. The experience of a poetry slam in English was hopefully inspiring for all of the guests and participants to start or continue experimenting with creative writing both in their mother tongue and in foreign languages since it is a rewarding activity in many ways:
It unlocks a whole treasury of ideas that you have not had the chance to express.
It encourages you to be imaginative and to embrace the unconventional.
It combines the entertainment factor of art with a pleasantly challenging brain exercise.
It makes you more confident in the use of both oral and written language.
You can compile a whole memory album of thoughts that have concerned you at that point in time and look back on it with nostalgia.
You explore the vast lexicon of the language and discover the unsuspected meanings of words. Then you often catch yourself playing upon them by dropping puns.
You find new ways of moulding and ornamenting your expressions through literary techniques.
You learn to enhance the emotional effect of your images through sounds and discover the melodious beauty of language.
You transfer this creativity to your professional life and you find yourself speaking in a more attention-keeping manner. Poetic language is also a great tool in fields like advertising, marketing and copywriting.
You also hear yourself using a richer language in your personal life which moves your conversations away from simple small talk.
Although finding and developing an idea for a poem at first seems challenging and the white sheet of paper might stare at you expectantly for an hour, do not get discouraged. Most poets have probably suffered from writer's block at one point, so you are not alone. Sources of inspiration can be, for instance, some conversations you have had, your general tastes and opinions, travel, daily life, some recent impressions and stories from your childhood… You can also search for more information on poetic forms, metre, rhyme, rhythm and on some literary devices, as this will enhance your options on how to structure your poem (even when deciding on a freer style). Reading poetry will also broaden your perspective on topics, form and style. Once you start writing, you will certainly become more confident in it with practice.
So challenge yourself to write a poem in a foreign language!
I am wishing you a successful exam period and a nice spring break!
Best wishes,
(Master English & American Studies, 1st semester)