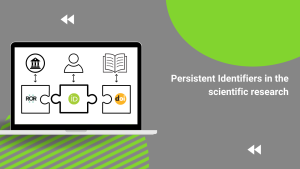 A Persistent Identifier is a kind of number plate that we wear in the web. After all, we use PIDs on a daily basis in our analogue world, such as when we are asked for our identity card number. Only here we are on the web. Fortunately behind a Persistent ID there is an organization that ensures its persistence over time. At this point someone might reply that the address of a website is a persistent ID. Wrong, because behind it there is not always an association to ensure its long-term durability.
A PID is "a code which remains constant as a means of identifying a digital object regardless of changes to its location on the internet".
A well-known example: DOI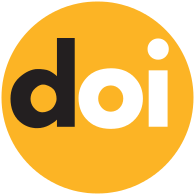 In the complex mare magnum of scientific research, however, I would like to focus on just three PIDs. Of course there are PIDs for a lot of things as geographical coordinates, and much more.
As a researcher you will have already heard of DOI because the articles you have published have one. DOIs (Digital Object Identifiers) are also present in our library catalogue and redirect to electronic resources.
The difference between the URL where you can find for example a journal article or an ebook and the DOI is that the DOI is a kind of intermediary between the user and the URL and stores the metadata (name, author, publisher etc…) of the electronic resource. If the URL is no longer accessible, the publisher must update the resource and its URL and perhaps change the address but the DOI will remain the same. One of the advantages of DOIs that may not be widely known is that they allow us to distinguish different versions of a dataset.
Thus the DOI ensures long-term access to electronic information. So if an article changes its URL if it has a DOI you can easily find it again.
A time-saving tool: ORCID
The same goes for the author of the research. You too can have your own Persistent ID, your number plate, and this is not about being tracked and filed by some non-governmental

organization with the aim of ruling scientific research. Quite the opposite. ORCID (Open Researcher and Contributors ID) is the persistent identifier for content creators, authors of scientific papers.
An ORCID-iD is necessary to help you in your research career because it will save you a lot of time. Especially when you have to apply for funding and when necessary to distinguish you from a researcher of the same name. Your entire bibliography, your peer-reviewed papers, your collaborations, your grants are all collected in a record that allows you to export to many formats.
Have you written many articles and do not want to enter them manually? No problem, because ORCID is recognized by many research tools that allow you to communicate/add your articles directly into your ORCID Record.
For example, a few days ago we implemented an ORCID plug-in in Open Journals System at TU Chemnitz. With an ORCID you can communicate with a link all your work, all the peer-review processes you have participated in, the university you work for. In addition, your ORCID follows you from one institution to another.
ORCID Community is really acrive und entusthiastic towards the future. Take a look here, there are so interesting informations: https://info.orcid.org/researchers/
If you don't have a ORCID account you can create one for free.
Let's complete the puzzle: ROR
So at this point we have an article (DOI) that has been written by an author (ORCID) who works for an organization. Well, to define in the world of persistent identifiers an organization there is the ROR (Research Organization Registry). This is the ROR ID for Chemnitz University of Technology: https://ror.org/00a208s56

As for ORCID and DOI also the ROR is not operated commercially and provides a freely accessible directory of official affiliation names of scientific institutions and their associated identifiers.
Many institutions, including private ones, are now equipping themselves with an ROR.
ORCID in OJS
As I wrote, at the Chemnitz University of Technology we have started the first implementations of ORCID within our publication systems. To date, the OJS (Open Journals System) allows authors to link their OJS account to their ORCID Records. When they publish an article on the platform all metadata is entered into the ORCID record automatically without entering anything manually. Furthermore, the ORCID implementation is now present in many databases and even allows a collection of articles by calling the article property. So please do not enter anything manually into your ORCID record. Save time and use this trick as well as other methods of collecting your articles scattered around the web. Other implementations of ORCID in our systems will follow in the coming months.
How to connect your OJS Account to you ORCID Records.
Log in to your OJS account. Click on your profile in the top right →View Profile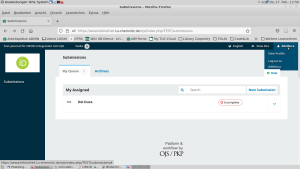 Scroll down and click on "Create or Connect your ORCID iD".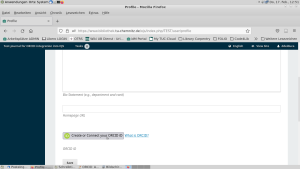 If you don't have an ORCID account yet, you can create one now. If you already have one, log in to your ORCID iD.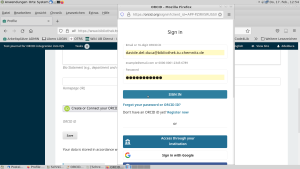 Finally, you authorise access to "Open Journal Systems at Chemnitz University of Technology". So when you publish an article in OJS, the information is published in your ORCID record at the same time.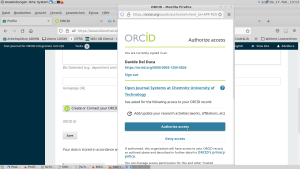 Conclusion
Persistent IDs make data FAIR (Findable Accessible Interoperable Reusable). Only this ensures a future for his career. Scientific communication must be able to be reused. PIDs are a great help.
There is a lot of metadata to collect out there that you may have forgotten to add in your ORCID. So if you need help or want to know more about ORCID or Persistent Ids, do not hesitate to contact me.
References:
Braukmann, Martin Fenner, Christine Ferguson, René van Horik, Rachael Lammey, Alice Meadows, and Simon Lambert. 'Connected Research: The Potential of the PID Graph'. Patterns 2, no. 1 (8 January 2021): 100180. https://doi.org/10.1016/j.patter.2020.100180.
Droog, Alissa, and Laura M. Bredahl. 'ORCID Education: A Departmental Approach'. Library Hi Tech News 38, no. 1 (2021): 1–5. https://doi.org/10.1108/lhtn-11-2020-0106.
Golodoniuc, Pavel, Nicholas Car, Simon Cox, and Robert Atkinson. 'PID Service – an Advanced Persistent Identifier Management Service for the Semantic Web', 2015.
Juty, Nick, Sarala M. Wimalaratne, Stian Soiland-Reyes, John Kunze, Carole A. Goble, and Tim Clark. 'Unique, Persistent, Resolvable: Identifiers as the Foundation of FAIR'. Data Intelligence 2, no. 1–2 (1 January 2020): 30–39. https://doi.org/10.1162/dint_a_00025.
Klump, Jens, Fiona Murphy, Tobias Weigel, and Mark A. Parsons. 'Editorial: 20 Years of Persistent Identifiers – Applications and Future Directions'. Data Science Journal 16, no. 0 (11 December 2017): 52. https://doi.org/10.5334/dsj-2017-052.
Persistent Identifier | The Macquarie Dictionary – Credo Reference'. Accessed 17 February 2022. https://search.credoreference.com/content/entry/macqdict/persistent_identifier/0?institutionId=499.