In addition to the current website format, recordings in BigBlueButton are now also available for download as mp4-file.
Creation of BigBlueButton recordings
If you want to record conferences with BigBlueButton, you have to activate "Aufnahme des Raumes" (Recording the room) in the room settings before entering the room. This feature is deactivated by default.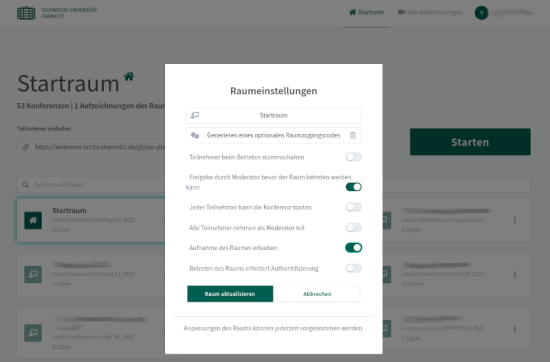 When activating this function, all participants in your conference will be informed that recording is possible. This must be confirmed by the participants before entering the room.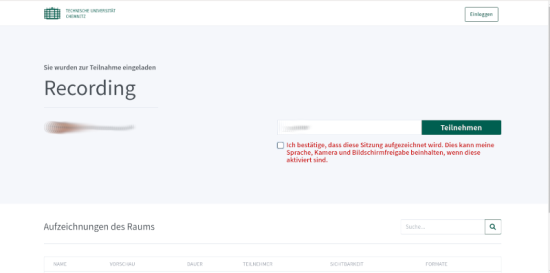 As a moderator, you can start and pause the recording in the room. When you leave the room, the recording will be created automatically and will be available to you some time later in your start room in the top right under "Alle Aufzeichnungen" (all recordings). By default, BigBlueButton creates the recordings in a web-page format similar to the conference. Thus, individual slides in the presentation can be conveniently jumped to when viewing the recording. Change the settings of your recordings to public so that other people can access it.
Components of recordings are:
Slides (presentation) and whiteboard
Video
Audio
Screen sharing
Chat (without the names of the participants)
New: Additional recording download
As soon as a recording is created by the system, a mp4-file is automatically created as well. The chat is no longer integrated in this format. Once the file has been completely generated, you will find the video in the list of your recordings in addition to the web file. The time it takes to create a single file depends on its size and the number of other recordings on the server. Please be patient and check the availability of the recordings at a later point in time. If the recording is still not available on the following day, please contact us via support@hrz.tu-chemnitz.de about the status of the creation of your recording.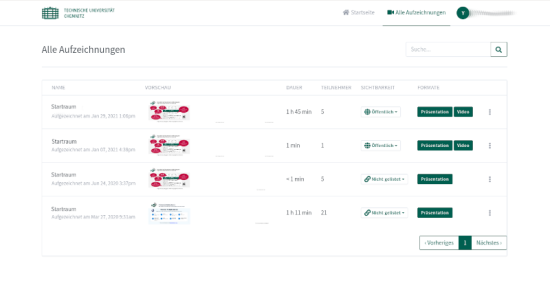 What is next?
If you download the mp4 file, you can use it, for example, on the Videocampus Sachsen platform and make it available to your students in teaching.So you have all the recordings saved in a central location.
With the downloading option, it will no longer be necessary to leave all recordings on the BigBlueButton servers. In the future, this may result in a deletion period for videos that are only available as "Nicht gelistet" (not listed) to the owners and people with access rights to the room.