In recent years, the offers and information on the use of e-learning services at Chemnitz University of Technology have continued to grow. In order to increase the clarity for the lecturers and also the students, we have renewed the e-learning website in the last few weeks and changed it over on 1. April.
On the homepage you will now find a selection according to target groups as well as the current articles from the e-learning section of the blogs "URZ Community" and "TUCdigital", the blog for digital teaching at the TU Chemnitz. A list of all offers, services and keywords related to e-learning at the TU Chemnitz can be found in the menu. It is updated regularly. Current events of the e-learning team as well as advisory and support services round off the broad portfolio.
Teachers can find a lot of information on existing tools and different teaching methods as well as didactic tips on the use of different teaching aids on the subpage E-Learning in Teaching. You have the option of subscribing to the teaching newsletter. This will provide you with the latest information on events, changes to the learning and examination platform or the portal Videocampus Sachsen.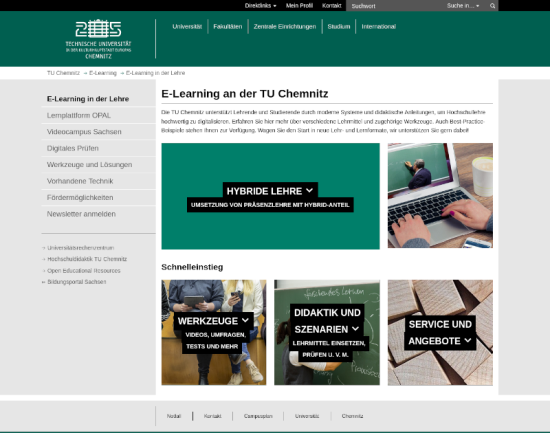 Students can access the E-Learning in Studies subpage via the homepage. Here they can find specific information about the OPAL learning platform as well as opportunities for independent work in groups, researching information or digital examinations.