After successfully testing the Particify service last year, we can now continue to provide the service to our users. Particify makes it possible to publish polls at events and collect and display live feedback from participants. Thereby, participation is convenient and anonymous, using a link or QR code directly on your smartphone, PC or laptop. No additional devices, software or registration are required.
How does it work?
Registration for the service takes place with the TU account conveniently via the Web Trust Center (WTC): Particify service. A room is initially created for all questions and feedback on an event (e.g. course). Various functions are available within this room. Thus, participants can write contributions and communicate unanswered questions. Live feedback in the form of A/B/C/D questions or Likerts (a smiley selection) can be activated quickly and easily. In addition, questions or series of questions can be created, which can be released individually to the participants. In contrast to live feedback, there are other different types of questions in a question series, e.g. also a word cloud, available. The evaluation of the results is directly visible to the participants. After the end of the event, you can delete all posts and replies and thus use the room again and again.
With the latest Particify update from 21.02. new functions are available:
Changes in the Q&A section
Since the update, the Q&A area, which was previously always visible, can be hidden. You can also deactivate the creation of new posts. To do this, switch to the Q&A area of your room (speech bubbles in the side menu on the left). There you will find the new settings at the top right. Use the lock icon to lock posts. The settings for hiding the entire post area can be found in the settings (tool icon).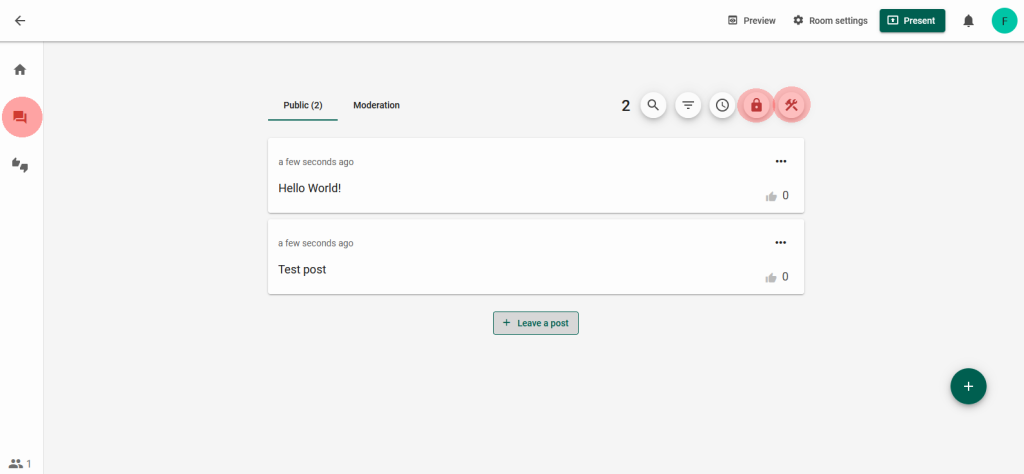 New question format
With the question type "Prioritization", a new question format is now available. You can specify several answer options and participants can distribute their preferences in the form of percentages or point values. 100 units must be assigned to the possible answers. The participant is free to decide how many units are allocated to each answer option.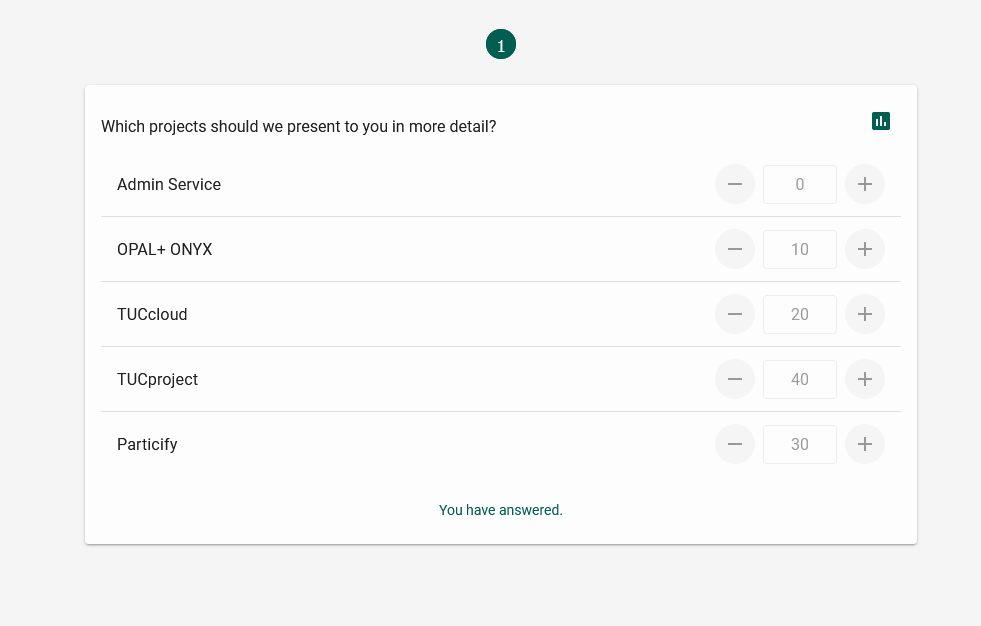 Account Deletion
Users who have not been active in the system for more than two years will be deleted. All rooms will be removed. If you register on the platform again after two years, you can use Particify again, but you have to create new rooms.
You can read about all other improvements directly in the article on the Particify website.