Since the introduction of our chat service TUCmessages in 2020, the number of users and the number of rooms has grown steadily. The service is used in many areas to provide group members with up-to-date information and to exchange ideas quickly with one another. Some of the scenarios that occurred:
(cross-university) project groups
student study groups
accompanying communication
internal communication
During the pilot phase, various system settings were to be tested in addition to evaluating various application scenarios for teamwork and teaching. The first results are now available so that the TUCmessages service can be updated.
Deletion concepts for users, rooms, and messages in rooms
Chat content should be short-lived and is not subject to any archiving option. Messages older than 365 days are therefore automatically removed by the system in all group rooms. If you also use TUCmessages via an app (e.g. Element) on your smartphone, it is possible that outdated messages will still be displayed if the app caches them.
Users whose access authorization expires no longer have access to the chat service when their access authorization ends. All running sessions are terminated immediately. This also interrupts running app sessions. Registration is then no longer possible due to the lack of access authorization. After a period of 365 days, all usage data and room memberships will be deleted. If there is renewed access authorization after the period has expired, e.g. after parental leave, the account can be created again. Access to the room must be re-issued by the other room members.
Each login to the Matrix server with a new device or a new browser session creates a device login. If a device is changed or the current browser session is ended, the outdated device registrations of the respective user are saved but inactive. You can check your device registrations yourself in the "security and privacy" settings and, if necessary, end unknown or outdated device registrations.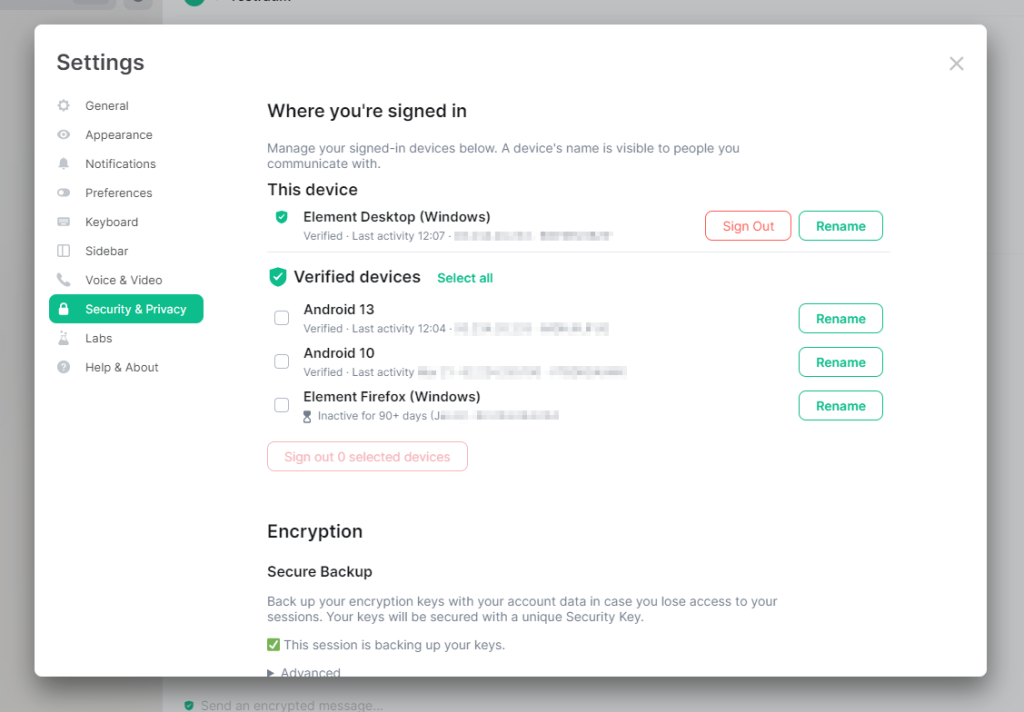 In order to free up storage space, we will now delete device registrations that have not been used for more than 180 days. When restarting such a session, login and verification are required again. All room memberships are then available again in the newly created device registration.
Orphaned rooms – i.e. rooms without users – are removed from the system on a daily basis.
Use of the read receipt
The read confirmation can be deactivated by the user. To do this, deactivate the "Send read receipts" switch under "Settings" → "Preferences" → "Presence". In the default setting, the sending of read receipts is allowed, the system currently does not allow a default configuration for deactivation. We recommend that you also deactivate the sending of typing notifications if you use it.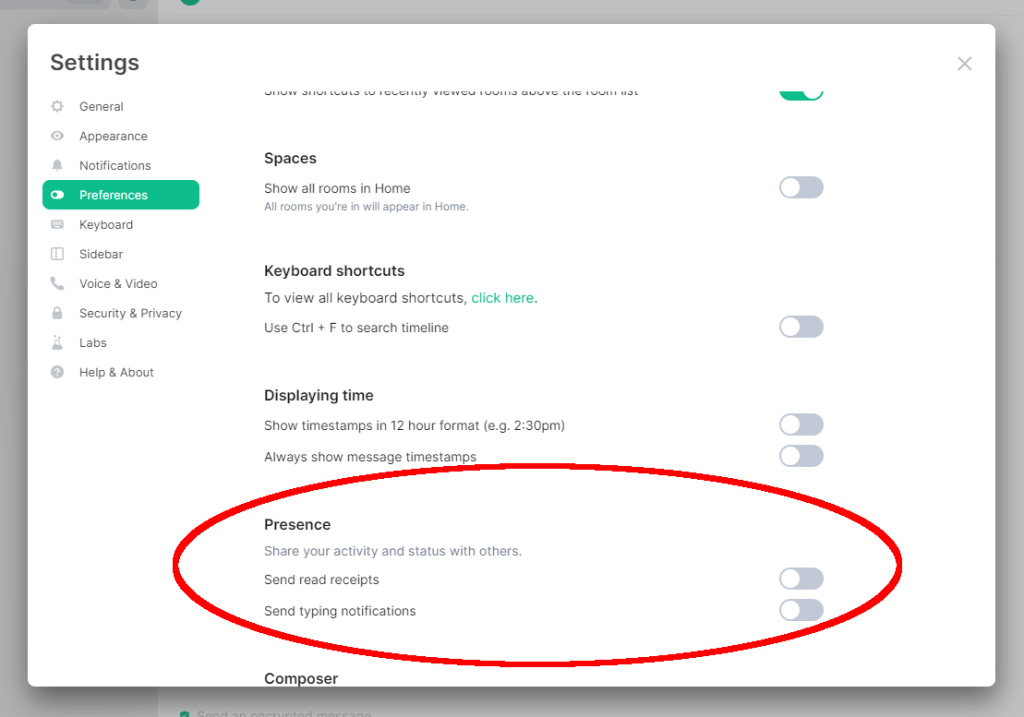 Read receipts can be disabled in both the browser and the app in case you are using Element to read messages.
Use of the federation for collaborative projects or external users
The use of the federation is currently not restricted, so users of other matrix servers also have access to correspondingly released rooms. It is also possible that you have access to rooms on other servers with your Matrix account. The data from the rooms are always on the server that provides the room. For example, if you are an active member in a room at another entity, you are subject to the privacy and retention policies of that other entity. Whether your data is stored in encrypted form in other rooms is at the discretion of the room administrator. Read the relevant terms of use when logging into third-party server rooms.
In order to grant users of other Matrix servers access to a room, the option must be activated when creating a room. Unfortunately, it is not possible to change the access option later. In this case, the option "Block anyone not part of tu-chemnitz.de from ever joining this room." must be deactivated. You can find these under Advanced settings when creating a new room.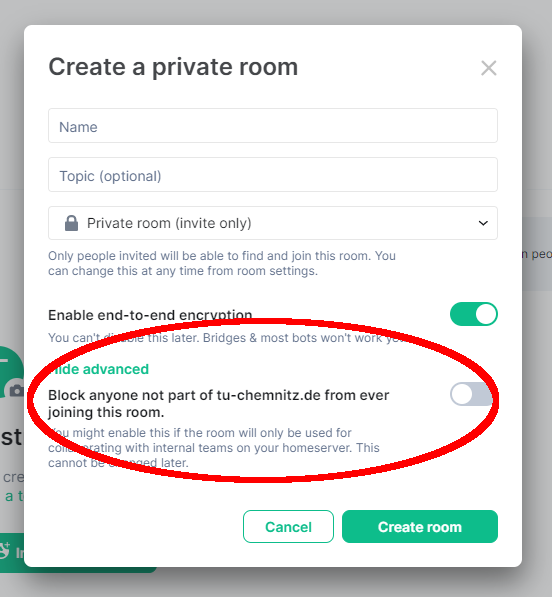 Use of push notifications
This point is still open and has not been finally evaluated. Push notifications can be received on the smartphone if you set the notification settings accordingly. No content data is sent when sending. However, we still recommend using it in the browser or in the desktop app provided on the workplace PC.