Sometimes users write to us that they do not receive their lecturers' emails written via the learning platform OPAL. This problem can often be solved quickly.
E-mails sent from the learning platform OPAL have the sender address "noreply@opal-sachsen.de". Sometimes this address "noreply@opal-sachsen.de"
accidentally ends up on the exclusion list of your mailbox, for example if you slip in the line when deleting via the mouse menu.

Therefore, if you notice that OPAL mails are not being delivered to you, first have a look into webmail under "Webmail" → "Filter" → "Exclusion list"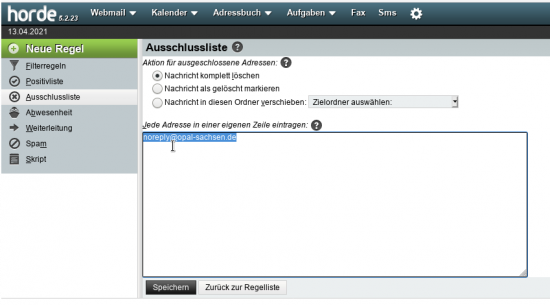 If the address is listed there, please delete it from the list and press the "Save" button. Mail delivery will then work again as usual. If the address does not appear in the exclusion list, please write us to e-learning@tu-chemnitz.de with more details (e.g. the specific course, the date of an undelivered mail).