After more than two years of daily videoconferences, many recordings accumulate. To free up unneeded storage space, we have decided to delete unpublished recordings from BigBlueButton.
Which recordings are affected?
Recordings can be started by the person responsible for the room if the corresponding option is set in the settings.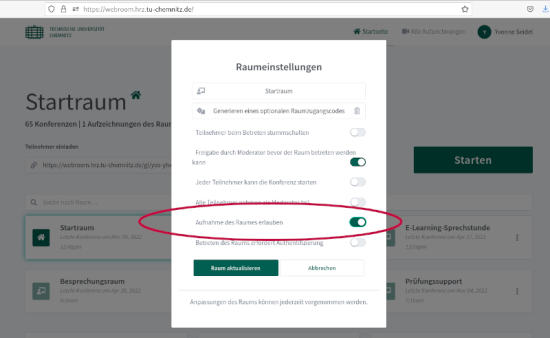 The recordings are listed in the BBB portal in the top right-hand corner in the "All recordings" section. For each recording listed here, room managers can decide whether the recording is publicly accessible or private (not listed).

All published records will remain. Only private (unlisted) recordings will be removed.
When will records be deleted?
Starting on 01.06.2022, all records older than the start of the previous semester will be deleted. For the first deletion, this means specifically:
All private records older than 01.10.2021 will be deleted.
In the following winter semester, all records older than 01.04.2022 will be deleted.
How can I prevent my recording from being deleted?
For each recording created, an mp4 file is created next to the presentation view for download. For all existing recordings, corresponding download files are being created automatically. You can download your recording (including private ones) and save it yourself or, if necessary, make it available to other people via the Videocampus Sachsen, for example the previous co-authorised persons of the room.
If you want to leave your recording on the BBB portal, set the visibility to public to prevent deletion.