In the e-learning area there are numerous survey tools with different functionalities, approaches, and answer options.
Live Feedback During Events
Using the survey tools, participants of an event can be asked for feedback directly and live. The results are immediately evaluated and visibly displayed. When the event is over or another topic is discussed, voting is over.
Polls in BigBlueButton
During a conference with BigBlueButton, people who have presentation rights can not only provide slides or share their own screen, but also start polls.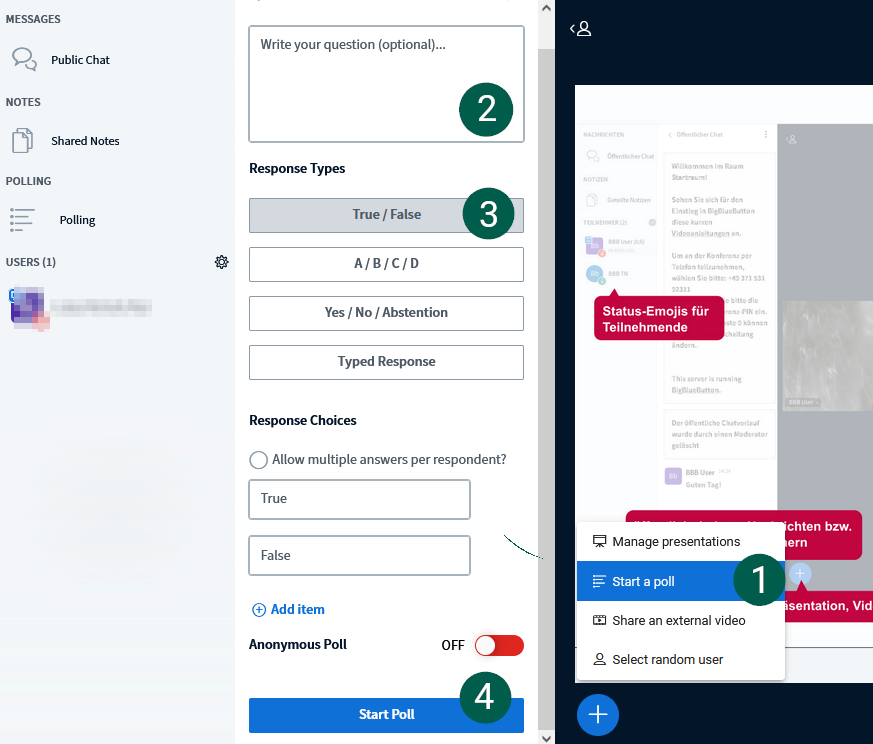 You can choose between the answer types:
True/False
A/B/C/D
Yes/No/Abstention
Typed Response.
There are also two other setting options: If the multiple answer option is activated, participants can tick multiple answers. If the Anonymous Poll option is activated, the person asking the question can not see who gave which answer. The poll results can be published in the room for everyone. What's practical is that the Smart Polling function can be used to start a poll within a presentation immediately in the conference and does not have to be created manually during the conference. Similar possibilities are also provided by other conferencing tools.
Classroom Response System Particify
A Classroom Response System (also called Audience Response System) has been available at https://particify.hrz.tu-chemnitz.de/ since January 2022. Particify works in the browser, additional devices such as Clickers are not necessary. First, a feedback room must be created for the event. You can easily share access to the room via a link or QR code. Now you have the possibility to create live surveys in the form of A/B/C/D or so-called Likerts (smilies). Or you can create a series of questions with different answer types available.

The answers are anonymous and are immediately displayed graphically in the statistics. In addition to question series and live polls, the rooms still offer the possibility to post. Thus, open questions about an ongoing event can be collected and prioritized, for example. Such feedback systems can be used both in courses and in workshops. By publishing the link or QR code, Particify can be used to accompany face-to-face events, online formats or hybrid scenarios. You can find a detailed article on the use of Particify in the blog article Voting and surveys in teaching.
Questionnaires and Evaluations
Unlike the previous tools, the following tools can be used to create more complex questionnaires or evaluations. Polls created in this way are often not published live within an event, but over a longer period of time. The results of the survey can be analysed and evaluated.
Evaluate with LimeSurvey
For surveys and evaluations, e.g. in the context of theses, the Bildungsportal Sachsen GmbH provides the service Survey based on LimeSurvey. Complex surveys can be created with the tool and analysed and graphically evaluated after the survey has been completed. The survey data can also be exported in various formats for evaluation. Survey also allows making 2-way decisions, e.g.: If the answer to question 1 is yes, then continue with question 5, otherwise continue with question 2. Chemnitz University of Technology has its own theme with the appropriate colour scheme, the use of which is described in the article Surveys in Corporate Design.
Questionnaire with ONYX
The ONYX test suite, which is integrated in OPAL, can also be used to create questionnaires that can either be embedded in an OPAL course or published independently via a link to participants. All ONYX task types are available for this, and questions from your own task pool can be used for the survey. The results can be evaluated statistically. Even when embedded in OPAL, it is not possible to access the entries of specific participants. How ONYX questionnaires are published outside of OPAL is explained in the article For your course: electronic voting with ONYX.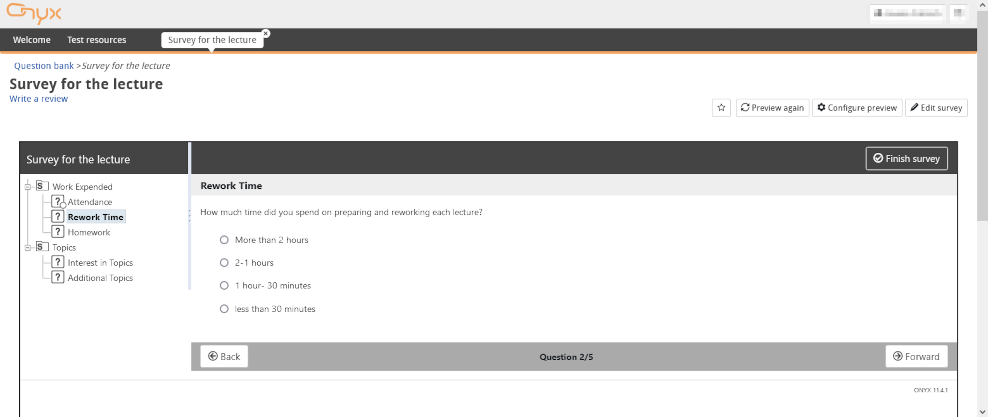 Feel free to try out the tools. If you have any questions or problems, please contact e-learning@tu-chemnitz.de. The range of free survey tools on the Internet is even larger. All tools offer different ranges of applications and functionalities. We would like to invite you to the discussion, do you use other tools? If so, what are the reasons and special features? To participate in the discussion, use our software board in OPAL.